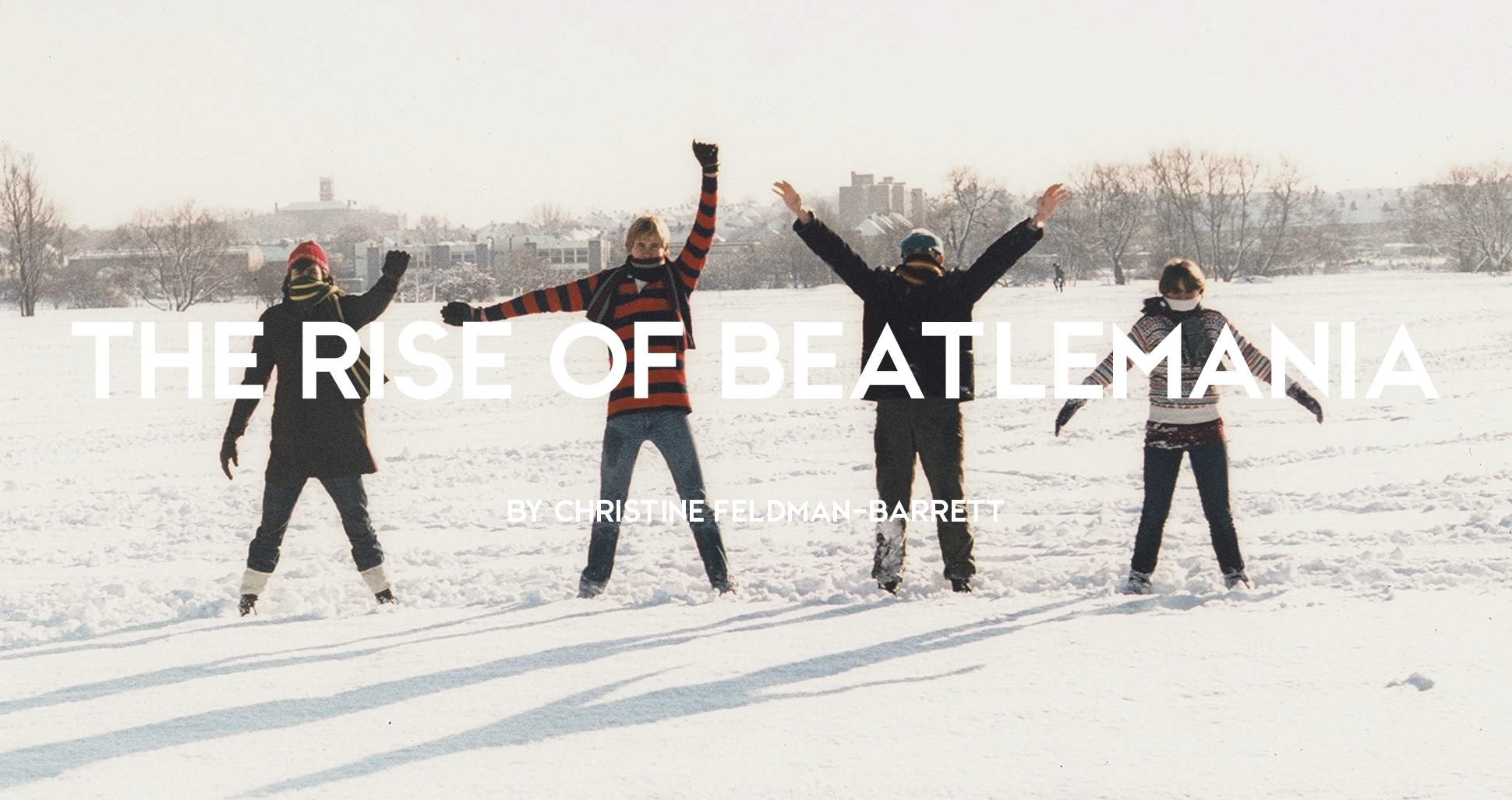 It's undeniable that The Beatles changed popular culture forever. Formed in Liverpool in 1960, they went on to become an international pop sensation, creating legions of teenage fans. Their hype became so big that fan culture became known as Beatlemania and gave rise to a new kind of fandom that still permeates today.
Text by Christine Feldman-Barrett, Cover Photo by Mark Charnock.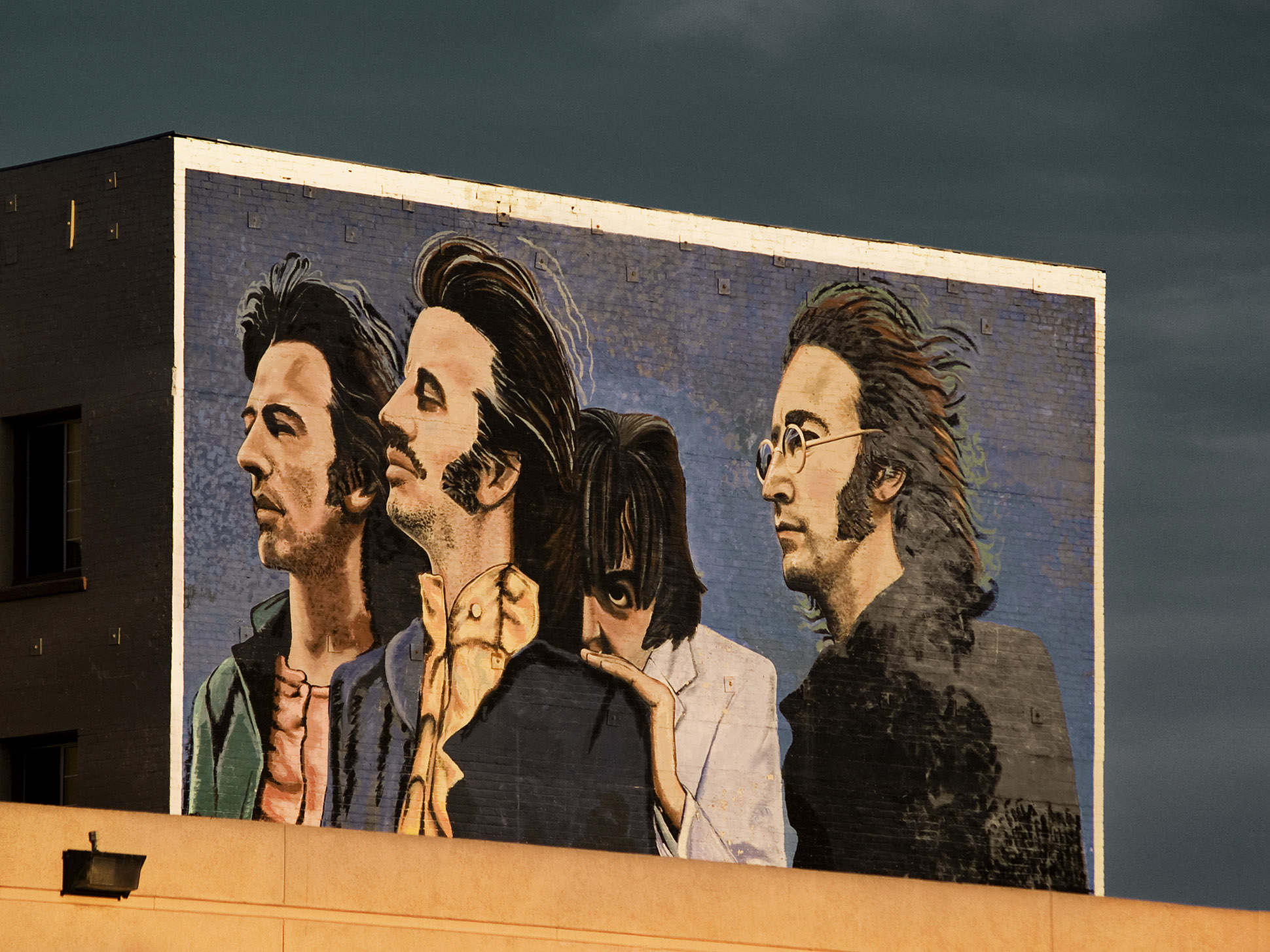 Beatlemania was the name given to describe the ecstatic, female-led fan culture surrounding the Beatles between 1963 and 1966. The term first circulated throughout British media in late 1963 and was used in order to capture the teenage excitement that followed the Liverpool band as they toured the UK. This "mania," whether witnessed in Newcastle or Portsmouth, was attributed to screaming girls who assembled anywhere the Beatles performed or appeared. Young women reacted passionately to the Beatles' energetic "Merseybeat" style of rock 'n' roll and found the band's softer, masculine style irresistible. The early Beatle image of "Mop top" hairstyles, matching bespoke suits, and chunky, Cuban heel boots further exemplified the band's perceived sensibilities. The global fervour of Beatlemania was unprecedented and set the tone for all subsequent music-based fan cultures.
Beatlemania exploded internationally as a result of the group's televised performances on the American Ed Sullivan Show in February 1964, the first of which on February 9th garnered a record-breaking 73.9 million viewers. Sold-out tours throughout North America, Europe, and the Asia-Pacific region soon followed. While the Beatles did not disband until 1970, the Beatlemania era of their career ended with a final stadium concert at San Francisco's Candlestick Park on August 29, 1966.
Beatlemania's origins stem from the fanbase that developed around the Beatles in their hometown of Liverpool. The Beatles were popular, regular performers at the city's Cavern Club and played there 292 times between 1961 and 1963. The Beatles' frenetic sets — combining rock 'n' roll, rhythm and blues, pop standards and Lennon and McCartney originals — captivated their audiences. Many girls found the band members attractive and often chose a "favourite Beatle." Whether it was rhythm guitarist John Lennon, bassist Paul McCartney, lead guitarist George Harrison, Pete Best (the band's original drummer), or Ringo Starr (who replaced Best in 1962), female fans often vyed to secure a space near the stage in the hopes of requesting songs or making eye contact. The band's talent and charisma eventually caught the eye of local businessman Brian Epstein, who became the Beatles' manager in January 1962. It was through Epstein that both a record contract with EMI was secured and, later, the pivotal Ed Sullivan Show appearance was scheduled.
The Beatles' music was a departure from that of previous pop acts as all the group's singles were written by band members. The songwriting team of John Lennon and Paul Mccartney produced a string of number one hits. Though their first British number one single, in late February 1963, was "Please Please Me," it was "She Loves You" and "I Want to Hold Your Hand" that epitomised Beatlemania in Britain, America and beyond. Both songs' lyrics emphasised dating and courtship (which appealed to girls), foregrounded vocal harmonies, and contained memorable, visceral hooks — like the unified "yeah-yeah-yeahs" and "oohs" of "She Loves You" and the hand claps and repetitive "I can't hide" of "I Want to Hold Your Hand." While "She Loves You" is the song most associated with British Beatlemania, "I Want to Hold Your Hand" both marked the first time a British rock group topped the US Billboard charts and launched the Beatles' career stateside.
"This has gotten entirely out of control" - Saturday Evening Post, March 1964
In 1964, as reporters throughout the Western world were busy calling upon "experts" to help explain this new youth phenomenon, calculating profiteers produced Beatles products en masse. Fans could soon buy specially published fan magazines, posters, dolls, badges, dresses, boots, wallpaper, lunch boxes, wigs, games, gum and nearly any trinket imaginable. Girls could outfit themselves and their bedrooms entirely with Beatles-branded merchandise. For some fans, the ultimate goal was to meet the band. Beatlemaniacs created ploys to sneak into the hotels where the band stayed while touring or stormed security barricades at concerts. Other fans channeled their love of the band into hobbies. Alongside forming fan clubs, some American teenagers created the "Beatle Bobbies," a group that monitored frantic fan behaviour at concerts and outside hotels. Others formed all-girl rock bands that aspired to emulate the Beatles' jubilant sound and spirit. Bands such as the Pleasure Seekers (USA), the Nursery Rhymes (Sweden), and Dara Puspita (Indonesia) are notable examples.
The Beatlemania era of the band's career set a new precedent for fan culture and is one of the few examples of a youth scene or subculture that was instigated and dominated by girls. The phenomenon of Beatlemania set the stage for the marketing of "boy bands" from the Monkees to One Direction. More importantly, the focused, emphatic fan practices set into motion around the Beatles became the blueprint for how bands, performers and their fans would interact in the decades that followed. The open displays of passionate devotion – whether screaming at concerts or waiting for hours to catch a glimpse of the stars in question – became commonplace whether for the Marc Bolan in the 1970s, Duran Duran in the 1980s, the Backstreet Boys in the 1990s, or Justin Bieber in the 2000s. While reading teen magazines and plastering posters to one's bedroom walls remain popular practices among teenage girls, the Internet now offers online fans sites, e-zines, social media groups, and countless other virtual spaces to congregate and express their fandom.
Christine Feldman-Barrett is a Senior Lecturer in Sociology at Griffith University in Australia. She examines histories of twentieth-century youth cultures within the English-speaking world and in Germany, with a particular focus on uncovering 'lost histories' of young women's experiences. She is the author of 'We are the Mods': A Transnational History of a Youth Subculture (Peter Lang, 2009) and is currently working on her next book, A Women's History of the Beatles, which is under contract with Bloomsbury.
This essay was curated by The Subcultures Network, which was formed in 2011 to facilitate research on youth cultures and social change, and commissioned as part of the National Lottery Heritage Funded project to build the online Museum of Youth Culture. Being developed by YOUTH CLUB, the Museum of Youth Culture is a new destination dedicated to celebrating 100 years of youth culture history through photographs, ephemera and stories.
The National Lottery Heritage Fund invests money to help people across the UK explore, enjoy and protect the heritage they care about - from the archaeology under our feet to the historic parks and buildings we love, from precious memories and collections to rare wildlife.
Tune In
She Loves You, 1963
I Want to Hold Your Hand, 1964
Please Please Me, 1963
I Saw Her Standing There, 1963
Twist and Shout, 1963
Turn On
Yellow Submarine, George Dunning, 1968
A Hard Day's Night, Richard Lester, 1964
Let It Be, Michael Lindsay-Hogg, 1970
Help!, Richard Lester, 1975