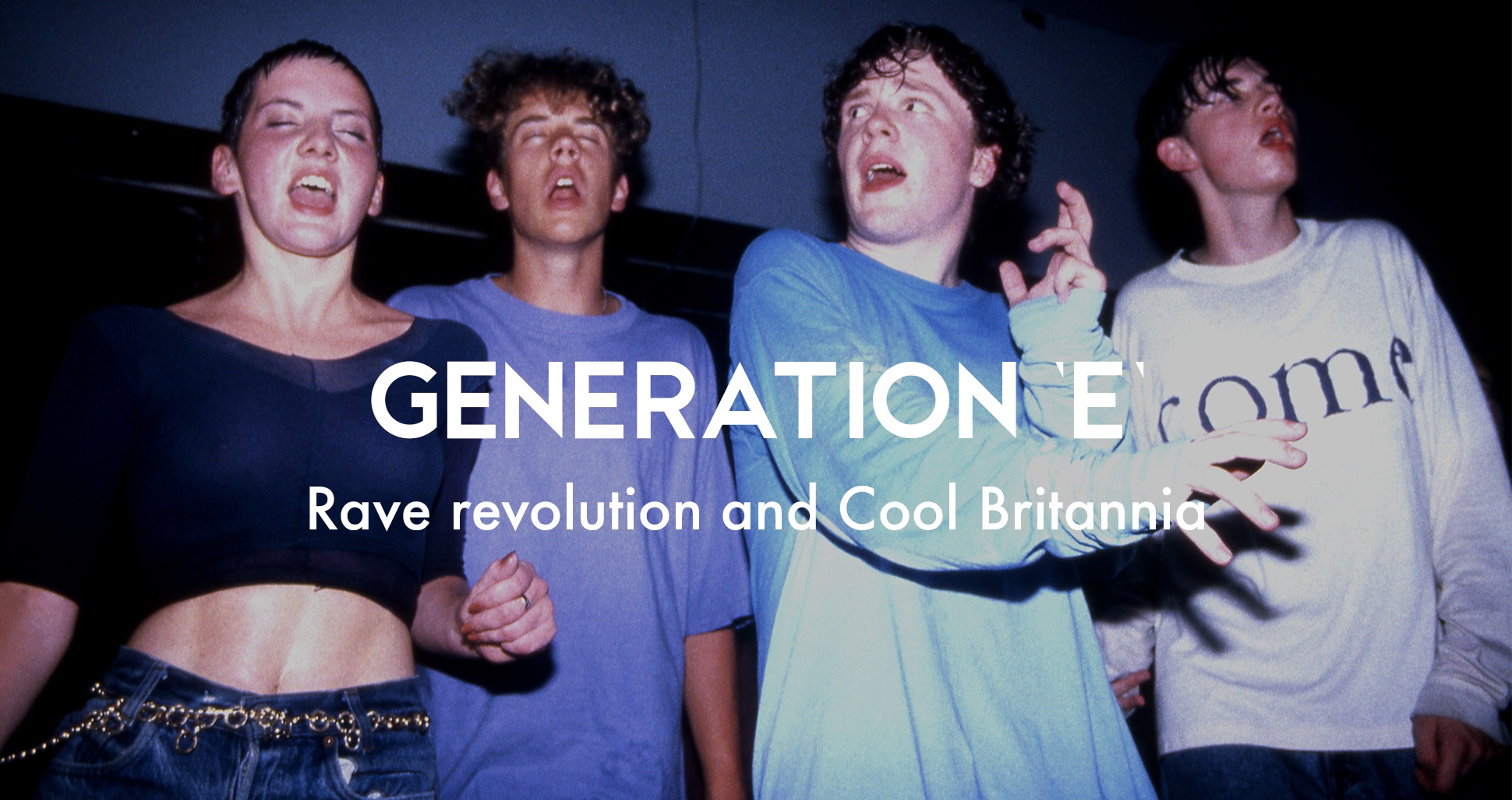 Youth Culture in Modern Britain Part Seven: Generation 'E': Dance Music and the Club Culture Boom.
Text by Bill Osgerby, Cover Photo by Peter Walsh.
New influences also came from abroad. Rap music and hip-hop culture (which combined graffiti, dance and fashion) had a particular impact. Rap and hip-hop had originally developed during the mid-1970s in New York's South Bronx, where performers such as DJ Kool Herc, Afrika Bambaataa and Grandmaster Flash combined deft wordplay with eclectic soundscapes assembled from music samples and soundbites. Rap and hip-hop circulated worldwide, and fed into the club cultures and dance music genres that were central to British youth culture throughout the late 1980s and 1990s.
Manchester, especially, emerged as a focal point to British club life. In the North West the late 1980s saw the Casuals' designer fixation replaced by a taste for baggy, loose-fitting leisurewear, while a new crop of northern bands such as the Stone Roses and the Happy Mondays made Manchester − or 'Madchester' as it was dubbed − the hub of a developing music scene. The Haçienda was especially important. The club was opened in 1982 by Factory Records (Manchester's influential post-punk record label) and was initially a financial disaster. During the mid-1980s, however, the Haçienda's fortunes dramatically revived as the club pioneered a major dance music renaissance.
Like 1970s disco, the new forms of dance music – house, garage and techno – first developed in American black and gay clubs such as Chicago's Warehouse and New York's Paradise Garage. But the music quickly took root in Britain, Manchester's Haçienda leading the spread of house and techno onto British dancefloors. In London, too, DJs such as Danny Rampling, Andy Weatherall and Trevor Fung were influenced by the American club scene, but they also drew inspiration from the nightlife of Ibiza. During 1987 and early 1988 the lively Balearic resort had become a centre for club culture, its DJs experimenting with house beats to produce continuous mixes of music that kept dancefloors packed throughout the night. The drug MDMA − or, as it became more commonly known, 'ecstasy', or simply 'E' − had also become a feature of the Ibiza scene, and during the late 1980s 'E' rapidly became the British clubber's recreational drug of choice.
In Britain, the heady atmosphere of Ibiza was recreated not only in London's 'Acid House' clubs such as Shoom and Spectrum, but also in a circuit of one-off, often illegal, 'warehouse' parties. Initially, these were fairly impromptu events held in abandoned industrial buildings and promoted by word of mouth; but by 1988 raves were being organised entrepreneurially. Arranged by professional promoters such as Sunrise, Biology and Eclipse, the so-called 'orbital raves' (staged in open fields around the M25 motorway encircling London) attracted crowds of thousands. Though unlicensed, these were often huge open-air events that boasted enormous sound systems, elaborate light shows, smoke machines and sometimes even fairground rides.
Acid house style was relaxed and playful. Childlike symbols such as the vivid yellow 'smiley' logo were mischievously appropriated and dancewear was always loose and baggy – typically in bright, primary and day-glo colours. Brands such as Naf Naf and Mau Mau commanded prestige, but the look of 1980s rave culture was always understated, some commentators interpreting the simplicity and bonhomie of the dance scene as a rejection of the aspirationalism prevalent at the beginning of the decade.
At first the popular press eagerly greeted Acid House as the latest exciting dance craze. During the summer of 1988, however, media coverage turned hostile as the links between Acid House and ecstasy (outlawed as a class 'A' drug since 1977) became more widely known. Banner headlines in the tabloids painted a lurid picture of 'drug-crazed kids' and 'evil drug dealers' and, in response, the authorities began to clamp down on the rave circuit. Particularly significant was the 1994 Criminal Justice and Public Order Act. More generally known as the Criminal Justice Act, it covered a wide range of legal areas, but parts of it seemed expressly designed to undermine rave organisers' ability to stage outdoor events.
By the time the 1994 Act became law, though, things had moved on. The unlicensed party scene had been superseded by licensed events, mostly staged at indoor venues and at a new generation of 'super clubs' such as south London's Ministry of Sound, opened in 1991, and Liverpool's Cream, opened the following year. The dance music scene, meanwhile, had always been composed of a plethora of interlocking musical forms and during the 1990s it proliferated into further subgenres – from speed garage and deep house to gabber and Goan trance. Asian dance music also achieved a high profile, with artists such as Apache Indian and Bally Sagoo enjoying mainstream commercial success and music journalists hailing the rise of 'Asian Kool'.
Champagne Supernova: The Rise and Fall of Cool Britannia.
'Cool Britannia' was another buzzing phrase of the late 1990s. Coined by the media to denote a renaissance in British art, fashion, design and music, the term encapsulated the broader sense of a nation newly invigorated in the wake of the election of Tony Blair's ('New') Labour government in 1997. In this imagery of a revitalised Britain, notions of 'youth' had particular resonance. National rejuvenation had been a key theme in Blair's electioneering, the Labour leader promising that his government would 'make this the young country of my generation's dreams'. And, once in office, Blair's attempts to forge a 'New Britain' tried to tap into the verve of contemporary youth culture.
British music seemed to be riding high. From the mid-1990s a wave of new guitar bands − most obviously Blur, Oasis, Suede and Pulp − pumped out a series of bright, catchy singles. Grouped together by the press under the moniker 'Britpop', they seemed to herald a more general national rebirth. All-girl pop fivesome, the Spice Girls also introduced a note of lively pizzazz. Recruited, modelled and marketed by a team of producers and record company moguls, in many respects the Spice Girls were a conventional product of the pop industry. Under their feisty slogan 'Girl Power', however, the Spice Girls' image recast many of the qualities of pop femininity. Combining a brash cheek with fun-fuelled energy and confident sexuality, they elaborated a version of feminine identity that (in some respects at least) was independent and empowered, and they scaled the heights of pop stardom as their 1996 single, 'Wannabe', topped the singles charts of twenty-seven countries.
As Prime Minister, Tony Blair − much like Harold Wilson during the 1960s − strove to attach himself to the upbeat cachet of British youth culture. Blair, for example, enjoyed photo opportunities with the Spice Girls (athough the Girls actually declared themselves ardent 'Thatcherites'). And Noel Gallagher (boisterous frontman of Oasis) was invited to a prestigious reception at Downing Street, while Alan McGee (founder of Creation Records) was appointed as a special advisor to the government's Creative Industries Task Force (CITF) – a body where government ministers and leading media figures joined forces to map out how the economic potential of Britain's creative industries might be maximized.
It was a shrewd move. Britain's youth culture had become big business. In 1993, for example, the Henley Centre for Forecasting (a leading business consultancy) estimated that the British rave scene was worth between £1 and £2 billion a year. And, by the end of the decade, Ministry of Sound alone had an annual turnover in excess of £100 million and represented a global business empire, with interests across the record, magazine and fashion industries.
By the end of the 1990s, however, the 'Cool Britannia' bubble had burst. Disillusioned with what they saw as the Labour Party's failure to deliver on election promises to help young people and the poor, the grandees of Britpop rounded on the government. Noel Gallagher professed shame at having accepted his invitation to Downing Street, while Alan McGee angrily quit the CITF. In government circles, meanwhile, the upbeat themes of 'Cool Britannia' made way for a more authoritarian stance as an apparent upsurge of gang culture and gun crime was blamed on the influence of rap bands such as south London's So Solid Crew. 'For years', Culture Minister Kim Howells averred, 'I have been very worried about these hateful lyrics that these boasting macho idiot rappers come out with. ... It has created a culture where killing is almost a fashion accessory'.
So Solid Crew had emerged from a pre-eminently black dance music scene that followed the fragmentation of rave in the early 1990s. Variously known as jungle, breakbeat or drum 'n' bass, the  music was distinguished by its blend of reggae, hip-hop and house music styles. Cutting-edge recording technologies were used to sample and blend an ever-expanding array of sources. The sonic landscapes that resulted were dominated by a preponderant reggae bass-line, though the composite whole rattled along at a breakneck 160 beats per minute.
The jungle / drum 'n' bass scene was spearheaded by a coterie of DJs such as Fabio and Grooverider, and it was focused around club sessions at places like London's Astoria and the Paradise Club in Islington. There also developed a network of underground clubs which − together with record labels such as Moving Shadow and Juice Box, and pirate radio stations such as Kool FM and Eruption FM − increasingly drew together a mixture of black, Asian and white youngsters. By the mid-1990s drum 'n' bass had gained national exposure in releases by artists such as Kemet Crew, a Guy Called Gerald and especially Goldie − a former graffiti artist who became the face of jungle through the success of his debut album Timeless in 1995 and the popularity of his Metalheadz club-nights.
In some ways, the sweaty, pulsating club-nights harked back to the sound system days of the 1960s and 1970s. The dress-code also recalled the 1960s rude boys, whose displays of conspicuous wealth and sombre menace found echoes in jungle's taste for gangster posturing, expensive gold jewellery and exclusive designer labels. By the end of the 1990s, the mood could seem intimidating and vaguely ominous. It was, perhaps, a portent of times to come.
Bill Osgerby is an author and professor with a focus on modern American and British media and cultural history — with particular regard to the areas of gender, sexuality, youth culture, consumption, print media, popular television, film and music. Amongst other he has published, Youth in Britain Since 1945 and Biker: Style and Subculture on Hell's Highway.
This essay was curated by The Subcultures Network, which was formed in 2011 to facilitate research on youth cultures and social change, and commissioned as part of the National Lottery Heritage Funded project to build the online Museum of Youth Culture. Being developed by YOUTH CLUB, the Museum of Youth Culture is a new destination dedicated to celebrating 100 years of youth culture history through photographs, ephemera and stories.
The National Lottery Heritage Fund invests money to help people across the UK explore, enjoy and protect the heritage they care about - from the archaeology under our feet to the historic parks and buildings we love, from precious memories and collections to rare wildlife.